Ancient Manx coins declared Treasure Trove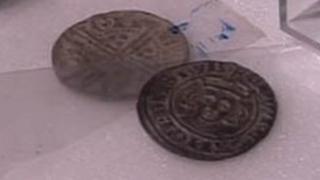 A metal detectorist who discovered more than 60 ancient coins in a field on the Isle of Man has described how "honoured" he felt to be the first person to hold the treasure for about 700 years.
On Monday a hearing was held at Douglas courthouse where the coins were deemed Treasure Trove by Coroner, John Needham.
John Lewis from Peel found the coins in February 2010 while out with his metal detector in Malew.
The coins were loose in the ground and with permission from the landowner Mr Lewis returned a few times over several weeks and found more.
In total, he uncovered 66 coins.
The pieces were later examined by experts at Manx National Heritage (MNH) and found to consist of 80% silver, dating back to around 1300 AD.
Mr Lewis said the find was an experience he would never forget.
"It is not something that happens every day, I have been searching for years and never before has anything like this happened.
"It was just a normal rainy day and I wanted something to do, so I went out with my metal detector and within a short time I started finding all these coins."
He contacted Manx National Heritage with details of his discovery, and over the next few weeks he continued his search.
"I kept finding more and more coins- I just couldn't believe it really. They came out in really good condition- to actually hold the coins and see them for yourself, it's amazing. It's like hands on history and it's a real honour.
'Pin-prick' eyes
"It's an experience I don't think I'll ever forget - it was the condition they were in which amazed me. You could see the actual eyes on the hammered coin. They were like tiny pin-pricks on the coin. I can't wait to do it all again."
Curator of archaeology at MNH Allison Fox said: "The treasure which has been found by Mr Lewis is from period in history which was very unsettled.
"There was a general fear for security and so to keep their life savings safe, people would bury them in the ground hoping to get back to them at some point in the future.
"I would suggest that the original owner was not an incredibly wealthy person, more of modest means. The Medieval value of the coins was equivalent to about two months' wages of a building labourer."
Once silver or gold found in the Isle of Man is declared Treasure Trove, ownership reverts to the British Crown and the Manx government holds it in trust.
Ms Fox said the coins would now be valued by historians after which MNH trustees would make a decision about whether or not the coins would be displayed at the Manx Museum.