Isle of Man film 'to reach thousands' of German viewers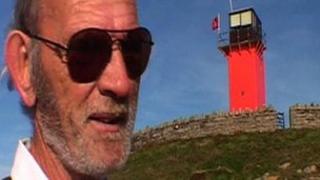 A 40-minute European tourism film made on the Isle of Man is expected to reach about 500,000 German viewers.
The holiday programme, called MareTV, focuses on areas around the world which have a strong sea tradition and has been running for more than 12 years.
The island film features horse trams, basking shark researchers and amateur radio enthusiast Ronnie Allcote.
Film reporter Steffen Schneider said each MareTV film reached about 500,000 people on its first appearance.
He added: "I think I would like to visit the Isle of Man again, maybe with my family.
'Very tranquil'
"I like the quietness of the Isle of Man and also the fact there is no mass tourism - it's very tranquil."
The team, said Mr Schneider, travelled to the island after extensive research showed the island had much to offer by way of interest.
"Our research people are constantly roaming through papers, books, other programs and the internet and we found lots of interesting things for our viewers," he added.
The team from the Non Fiction production house has covered many other areas around the British Isles, including Wales, Scotland, Devon, Cornwall, Ireland and the Channel Islands.
The Isle of Man episode was broadcast on a north German television station called NDR at the beginning of March and is available to watchonline.