World War II intern's artwork returns to Isle of Man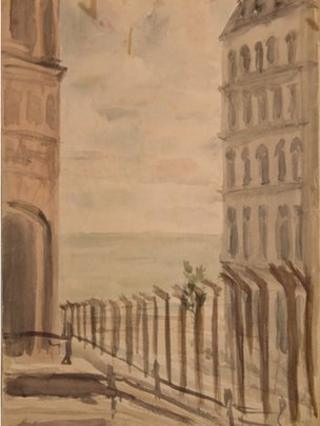 Artwork by a 91-year-old man who spent two years in Manx internment camps during the 1940s, is to go on display in the Isle of Man in April.
Ernst Eisenmayer from Austria was one of thousands of men and women interned on the Isle of Man during World War II.
Most were Jewish refugees who found themselves arrested by the British as enemy aliens in May 1940 after the fall of France.
The exhibition at the Sayle gallery will include 100 pieces of his work.
It will include portraits of fellow internees and a watercolour of the Central Camp in Douglas.
Chairman of the Sayle gallery, Roger Phillips said: "We are fortunate to have this opportunity to show Eisenmayer, not just as an internee but also as an influential artist of the 20th Century."
'Remembers fondly'
Mr Eisenmayer, who now lives in Vienna, was interned in 1940 and held in various camps in the Isle of Man, including Douglas, Onchan and Ramsey.
After his release in August 1941 he moved to London, where he lived and worked, establishing his artistic career as a painter and then a sculptor.
Although Mr Eisenmayer is unable to travel himself, his daughter will be visiting the Isle of Man for the first time during the exhibition.
She said: "I am looking forward to seeing a place which my father remembers fondly and with much humour, despite circumstances as an internee being not exactly luxurious.
"From the rough crossing from Liverpool to the hot summer of 1941, he remembers his life on the Island as being interesting and busy, and he formed life-long friendships with several fellow internees who are recorded in his drawings."
The Art Beyond Exile exhibition will be the first retrospective of his work in the British Isles and opens on the 6 April.