Manx2 plane crash: Landing gear failed says report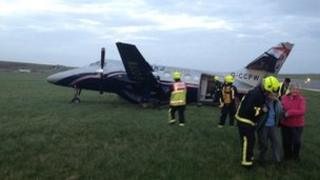 Mechanical failure has been pinpointed as the cause of a plane crash on the runway at the Isle of Man's airport.
The passenger plane from Leeds-Bradford operated by Manx2.com, skidded off the runway on 8 March when its undercarriage collapsed.
The 12 passengers and two crew members were unhurt in the accident.
A preliminary investigation by the Air Accident Investigation Branch (AAIB) said the aircraft's right main landing gear failed as it landed.
The reportadded: "Almost immediately the aircraft touched down it leaned to the right and there was an unusual noise.
"The commander levelled the aircraft with a left roll input. However, as the speed decayed the lean increased and it became apparent that there was a problem with the right gear."
The report adds that the failure is not yet fully understood, but was initiated as a result of stress corrosion cracking in a metal component of the landing gear.
The corrosion was not detected by a visual inspection carried out 11 days earlier.
The AAIB has made a recommendation to the European Aviation Safety Agency that it review the effectiveness of identifying cracks in the yoke pintle housing on landing gears fitted to Jetstream 31 aircraft.