Calf of Man rodent-cull to preserve Manx Shearwaters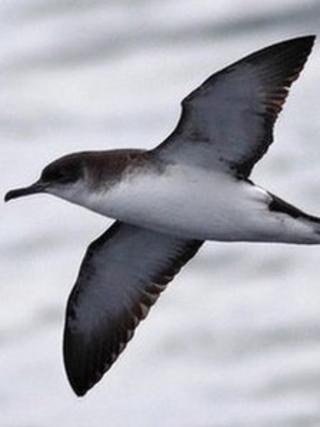 The population of brown rats on the Calf of Man islet is to be "eradicated" under plans to establish "safe breeding" for Manx Shearwater birds.
Manx National Heritage (MNH) will carry out the cull with help from the RSPB at a cost of £48,000.
MNH's Kate Hawkins said: "It is a great chance to regain the Calf's standing as the symbolic home of Manx Shearwater."
Located off the southern tip of the Isle of Man, the Calf has been a bird observatory since 1959.
Manx Shearwaters are on the Amber List of UK Birds of Conservation Concern and once occupied the islet in their thousands.
'Better breeding chance'
However, according to MNH the population "declined catastrophically" following the arrival of the rats.
By the beginning of the 19th Century, the colony was all but wiped out as a result of rats preying on chicks, eggs and adult birds.
Rodent control has taken place since 1979 but there is a persistent residual population of rats.
"Following the unusually cold winter last year, the rat population is at an all time low, providing a rare opportunity to eradicate it completely.
"It is a non-native, highly invasive predatory mammal and the cull will give our seabirds a better chance of breeding successfully."
In addition to conserving the Manx Shearwater, the project is anticipated to provide a more favourable environment for burrow-nesting birds such as Storm Petrels and Puffins, potentially leading to colonization and breeding.
Both species are also on the Amber List of UK Birds of Conservation Concern and the Puffin is of concern in a European context.
Manx National Heritage will work with the Food and Environment Research Agency (FERA), the Manx Wildlife Trust, Manx BirdLife and the Department of Environment, Food and Agriculture to carry out the cull.
The RSPB will help to fund the project which will cost £48,000.