Plans for Isle of Man TT 'Snoozebox' hotel approved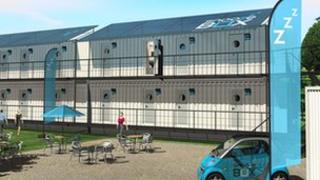 Plans to create a portable hotel to help meet demand for accommodation during TT week have been approved by the Isle of Man government.
The Snoozebox will be situated in Noble's Park in Douglas.
The temporary pod-like construction is already used at venues such as the Silverstone races.
A tourism spokesman said permission was for 260 rooms - potentially 520 beds. The island's registered accommodation is already full for the 2012 races.
The Isle of Man government is also appealing for more local residents to open their homes to TT fans in TT week.
In 2011, more than 700 homeowners on the island let rooms to TT tourists, with 2,858 beds being taken up during June's races.