Phil Packer visits Isle of Man on charity hike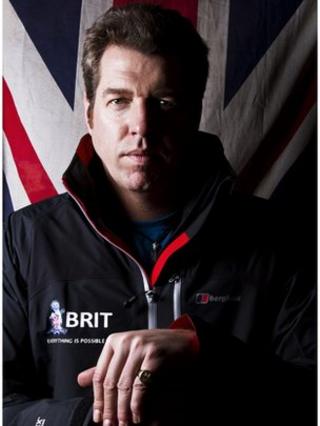 A former British soldier who was told he would never walk again will visit the Isle of Man later as part of a charity hike across Great Britain.
Phil Packer is hiking 2,012 miles in 2012 to raise money for disadvantaged young people and will be walking 10 miles from Peel to Douglas.
In 2008, Mr Packer was left paralysed from the waist down by a rocket attack while on active duty in Iraq.
He began his challenge on the 24 January and will finish in December.
Mr Packer will be joined by schoolchildren and members of the fire service and RNLI on the Manx leg of his walk.
'Facing adversity'
The 39-year-old plans to raise £15million to build a Centre of Inspirational Excellence for young people facing adversity.
"The BRIT 2012 Challenge is the biggest I've undertaken and it meets every principle my charity and I believe in," he said.
"Walking 2012 miles will be an enormous challenge. I want young people to take part in it and to show them that they are not alone. I want to connect them with inspirational figures, sporting teams, businesses and the British public."
Mr Packer has already walked across the South West of England and the Channel Islands.
Following his brief visit to the Isle of Man, he will complete several legs in Northern Ireland before continuing his hike across England, Scotland and Wales.
On the way, he plans to walk with children facing physical and mental adversity from community groups, schools, colleges and charities.
The Sussex-born man added: "I have invited all the Manx schools to join me on the walk and members of the fire service and RNLI will also be joining me."
Mr Packer received the Helen Rollason award at the 2009 BBC Sports Personality of the Year show after completing a number of gruelling fundraising challenges, including completing the London Marathon on crutches in 13 days and rowing the English Channel.