Benefits review for Manx budget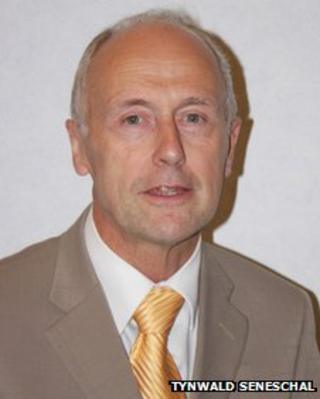 The Isle of Man's benefits system is to undergo a "full review" as part of measures to rebalance the budget.
In his budget speech, Treasury minister Eddie Teare called for a curb to benefits which, in some cases, he said, paid more than the minimum wage.
In the island's budget, he announced savings of £35m by cutting government spending in six out of the nine main departments.
The only departments given increases are education, health and social care.
Mr Teare said he hoped the benefits review would cut down on those claiming benefits despite being able to work.
He said: "Those who can work should, for the wider benefit of society".
'Lost generation'
He added: "We are fortunate to have retained near full employment at a time when large numbers of young people across Europe are desperate for work.
"I do not intend letting our young people become a lost generation".
Details of the benefit review are yet to be announced but the government has announced it will include national insurance incentives for employers who recruit from the pool of unemployed aged between 16 and 25.
Unemployment in this age group is currently 10%, while general island unemployment figures are at 2.5%.
Budget cuts have been seen in several departments. Community Culture and Leisure spending has been reduced by 1%, Economic Development by 7.8%, Environment by 1.9%, Home Affairs by 2.2%, Infrastructure by 4.9% and Treasury (gross expenditure) by 4%.
The only departments allocated an increase in spending are Education (0.2%), Health (3%) and and Social Care (4.9%).
'Targeted benefits'
Child benefit payments for second and subsequent children has been reduced from £20.40 to £13.50 per week which the government said "signals a move away from a universal to a more targeted approach to benefits".
The Isle of Man government also announced it had dipped into the island's reserves for the first time since the 1990s.
"Reserves are there for a rainy day and dealing with unexpected events," said Mr Teare.
"We didn't expect that there would be ongoing VAT issues but we have dealt with them and we will continue to deal with them.
"One of the biggest dangers is that we try to readjust the economy too quickly which would then destabilise the economy- we have to maintain confidence and I think this budget will enable us to do exactly that.
Mr Teare said he believed the general feeling in the Isle of Man business community was of "subdued optimism".
He said sectors including finance, construction, retail and hospitality were not as buoyant as a few years ago but despite this, he said the overall picture was still "positive".
Over the past year, 170 government posts have been cut and the trend is expected to continue with another 175 job losses in the pipeline before 2014.