Future of Manx Grand Prix under government scrutiny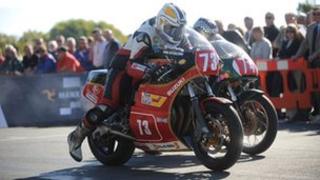 The future of the Manx Grand Prix festival has come under scrutiny after official figures showed a government deficit of more than £300,000.
The event, which is held each September, is often seen as a stepping stone for TT qualification.
Figures show the event brings in almost £6m to the Manx economy but leaves a £369,000 hole in the public purse.
A government spokesman said officials from economic development are committed to securing the future of the event.
He added: "The costs of staging Motorsport events on the Mountain Circuit have risen appreciably in recent years and this is reflected in the current deficit of approximately £369,000.
"The Department is working closely with the Manx Grand Prix Festival stakeholders to review all aspects of the Festival and the consultation process is ongoing."
A online survey looking at the costs, benefits and future potential of the Manx Grand Prix has been launched as part of a wide-ranging consultative review.