Maughold lighthouse buildings go up for sale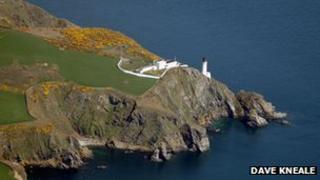 Lighthouse buildings described as a part of Manx "history" have gone on sale.
Estate agents said they expected the property at Maughold Lighthouse to attract offers of more than £600,000.
The coastal residence, once the home of the lighthouse keeper, includes four bedrooms and two bathrooms.
Nick Cooper, residential director at Black Grace Cowley, said there had been a lot of interest in the "piece of Manx history".
He added: "A location like this attracts a lot of attention because of the romance surrounding the idea of living in such a beautiful place.
"There is a reasonable amount of work to be done on the building but the main thing is it has immense potential to become a highly valuable home."
Maughold lighthouse is a working lighthouse situated on Maughold Head - the closest part of the Isle of Man to Cumbria. There are 128 steps up to the building.
It is the buildings around the lighthouse which are on sale.
The area between the lighthouse and Port-Vullen is a government-protected breeding ground for more than 35 bird species, including puffins and guillemots.