Cardigan Bay dolphins identified in Manx waters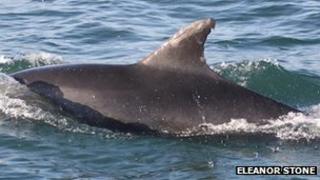 Photographs taken by the Manx Wildlife Trust of bottlenose dolphins swimming in Douglas Bay have been matched with dolphins in Cardigan Bay in Wales.
MWT Marine Officer Eleanor Stone posted her images on the trust's Facebook page where they were picked up by Cardigan Bay's science officer Sarah Perry.
Ms Perry said she recognised one of the dolphins straight away and said the identification was "very exciting".
Currently three dolphins have been matched from the new photographs.
Data sharing is also carried out between the Manx Wildlife Trust and the Sea Watch Foundation and Whale and Dolphin Conservation Society.
The dolphins are matched by examining the dorsal fins, which all have naturally occurring marks from interaction between dolphins.
Ms Perry said: "I thought I recognised at least one of the dolphins, so I looked at our photo-identification catalogue.
After searching through the images she confirmed that at least one of the dolphins was known by CBMWC researchers as 056, a regular visitor to Cardigan Bay.
She said the dolphin had been photographed by researchers there regularly since 2005 and is usually photographed throughout the summer months.
Three dolphins have now been successfully matched and Ms Perry said she was confident a high percentage of the dolphins in Douglas Bay would be regular visitors to Wales.
'Amazing creatures'
"It's very exciting to have this new information and evidence of where some of these dolphins are during the winter months when they are not seen in Cardigan Bay and it shows how important it is to share information gathered about the wildlife found in our seas," Ms Perry said.
"We have so much more to learn about these amazing creatures."
The photographs were taken by members of the Manx Wildlife Trust during a research trip on Friday.
Manx Wildlife Trust marine officer Eleanor Stone, who took many of the photographs, said: "The first group we encountered was of about 15 animals, but they were soon joined by more as the intrigue of a boat got the better of them.
"Soon we had about 50 dolphins, taking turns to come up and inspect the boat and ride in the bow wave.
"There were several small calves in the group as well, which is always good to see. The encounter was just what we needed to get good identification picture, she added.
Experts said they hoped the photographs would prove the dolphins had been in Manx waters before and whether they were the same dolphins that spend the summer in Cardigan Bay, Wales.
The Manx Wildlife Trust will also be looking to see if there are any matches with dolphins from Ireland and Scotland. They said they hoped the photographs would give a better idea of how far the dolphins would travel and allow them to better protect them.