Svetlana Cameron: Artist's work in national exhibition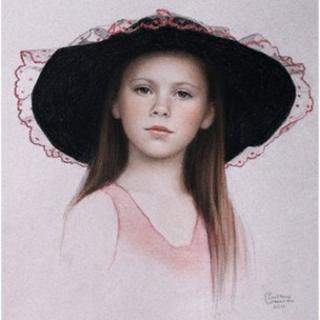 Isle of Man-based artist Svetlana Cameron is to have her work exhibited alongside some of Britain's leading artists at a national exhibition.
Her portrait 'Attitude' was chosen from hundreds of works submitted for the Pastel Society UK's annual exhibition at the Mall Galleries in London.
The charcoal and conte portrait passed two stages of selection by a panel of leading artists before being selected.
The Love Pastels exhibition will open to the public on the 14 February 2012.
'Absolutely thrilled'
The Russian-born artist, who produces her work in a studio in Braddan, said: "I am absolutely thrilled to have my work accepted. It is very exciting."
She added: "It's a relatively recent work created in 2011, and is not a commission, but a portrait I wanted to draw myself inspired by the girl's expression."
The Pastel Society was founded in 1898, and the first exhibition was held in the Royal Institute in Piccadilly the same year.
Ms Cameron first submitted her work digitally to be judged by a panel of leading artists before being invited to London to show the origional.
She added: "To be selected for a national exhibition where my work will hang alongside Britain's leading artists is a great honour."
The artist was also selected to exhibit at the Royal Society of Portrait Painters annual exhibition and recently unveiled her portrait of former Speaker of the House of Keys David Cannan in the Isle of Man's Legislative Buildings.
She is currently exhibiting works at the Sayle Gallery in Douglas and Hodgson Loom Gallery in Laxey.