Female vagrant emperor dragonfly identified on island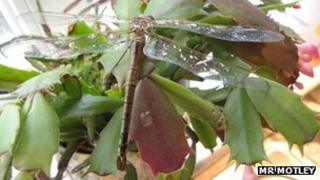 The first known record of a female vagrant emperor dragonfly on the Isle of Man has been confirmed by Manx National Heritage (MNH).
The dragonfly was photographed in a garden in November and sent to MNH to be identified.
Curator of natural history at MNH Kate Hawkins said that persistent southerly winds may have aided its arrival on Manx shores.
Sightings are usually associated with strong winds blowing from North Africa.
'Fascinating occurrence'
Mrs Hawkins said: "It is very exciting to capture the species on camera.
"This is a fascinating occurrence of a dragonfly which has been seen with increasing frequency in the UK and it has clearly been extending its range.
"Even with a following wind, it is amazing to think of this small creature making it so far north.
Most native dragonflies leave the island in October which aroused the curiosity of the photographer.
The emperor is one of the biggest dragonflies in Europe. It averages at 78mm (3.1in) in length.
The male of the species is turquoise blue.