New European Elk at Curraghs Wildlife Park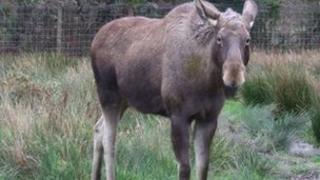 A European Elk is "settling in well" at her new home in the Isle of Man, according to park officials.
The 18-month-old animal was brought over to the island by a keeper from the Highland Wildlife Park in Scotland.
The European Elk is almost two metres tall and will be named by visitors to the Curraghs Wildlife Park in Ballaugh.
Juan Turner MLC said: "New arrivals at the park are always welcome and this female elk is an impressive sight."
He added: "I am hopeful we'll get some great suggestions for an appropriate name for her during the Christmas holidays."
Visitors to the park can submit a name suggestion until 3 January.
Park duty manager Tina Jauncey said: "We know that she is not the first elk in Ballaugh because the remains of an Irish elk, sometimes called giant deer, were dug up in the early 19th Century a mile from the wildlife Park.
"She is settling in well and will hopefully be joined in the summer by a male from Whipsnade Zoo."