Zebra mussel and 'killer shrimp' threat to Isle of Man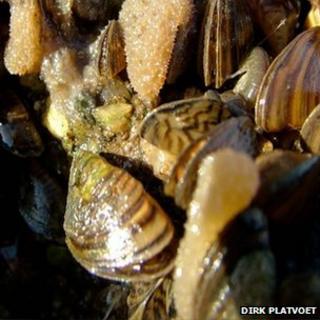 Manx rivers and reservoirs are under threat from an invasive species of mussel, the government has warned.
In recent years the zebra mussel has spread throughout rivers, lakes and reservoirs in the United Kingdom and Ireland.
They can cause environmental damage to lakes as well as causing economic damage to freshwater fisheries.
Environmental protection officer Dr Calum McNeil says the Isle of Man is "exceptionally vulnerable."
Zebra mussels, which are native to Russia, can block intake pipes, foul boat hulls and attach to any hard structure.
They are a freshwater mussel, similar in shape to marine mussels but smaller in size and covered in distinctive brown and yellow zig-zag stripes.
They out-compete native mussels, which experts fear could lead to their extinction.
They also filter the water very effectively, making it so clear that plant growth increases dramatically choking the waterway.
Dr McNeil said: "Zebra mussels are very small, around 30cm, and can attach themselves to hard surfaces.
"Anyone from the Isle of Man taking part in activities on rivers, canals, lakes and reservoirs in the UK or Ireland should double check all their equipment before returning to the island, he added.
"Once they are introduced to our eco-system they will be impossible to get rid of."
'Habitat and camouflage'
Dr McNeil said the situation was made worse by the fact that another highly-damaging invader, the "killer shrimp", could "piggy back" on the mussel.
He continued: "The shrimp commonly hide in clumps of mussels, using them for habitat and camouflage.
"Live shrimp have been found in clumps of zebra mussel on a boat' s propeller which had been out of the water for nine days."
This Eastern-European shrimp which invaded England in 2010 and has now spread to Wales, has been called the "worst ever invader of British freshwaters" by the UK Environment Agency.
Mr McNeil added: "I would encourage all water users to check, clean and dry all equipment thoroughly before moving to another site.
"The movement of zebra mussels from lake to lake is not only damaging to the local ecology but it is also a criminal offence."
Reports of all invasive species, including zebra mussels, should be made to the Isle of Man government's department of Environment, Food and Agriculture.