Isle of Man TT: Five new 'fan-zones' for the 2012 races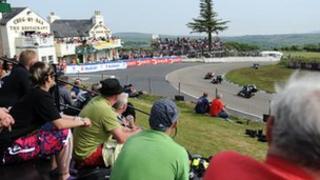 Five new "fan-zones" will be introduced to accommodate spectators at the 2012 Isle of Man TT races, the government has announced.
Each area will have a temporary grandstand to seat up to 300 people as well as catering and toilet facilities, and free WiFi.
The zones will be at Crosby Jump, Rhencullen, Ballacrye, Ginger Hall and Creg Ny Baa.
The Isle of Man TT races will be held between 2 and 8 June 2012.
The five areas of the Mountain Course have been selected for their views of the track and represent some of the fastest and most technical parts of the TT course.