Manx free-runner Will Sutton wins Kuwait competition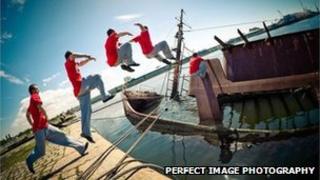 Manx free-runner Will Sutton has won one of the world's best-known parkour competitions, the Red Bull Art of Motion, held in Kuwait.
The 19-year-old from Douglas was one of a number of the world's leading free-runners to be invited to take part.
Mr Sutton said the competition was an "incredible experience."
Parkour originated in France and is a method of movement focused on moving around obstacles with speed and efficiency.
The competitors were split into five teams on their way to the competition and each team was given 36-hours to create and edit a parkour video to be judged by their fellow competitors.
The videos were screened in front of more than 200 people at the ballroom of Laila Cinema in Kuwait.
Mr Sutton said: "We were given 36-hours to explore and make our films on Failaka Island, which is about 20km off the coast of Kuwait. It was one of the most incredible places I have ever seen.
"There were ruins and bullet holes everywhere."
All the teams were challenged to navigate the natural obstacles on the island and demonstrate their skills along the way.
Mr Sutton's winning team, Warbah, included Timothy Shieff from the UK, Spain's Sergio Cora and Swiss free-runner Kevin Fluri.
The teenager became interested in parkour at the age of 13 when he watched a documentary called Jump Britain. He has received more than 140,000 hits on his YouTube site.
Parkour should not be undertaken without training and guidance.