Choirs needed to back Blake concert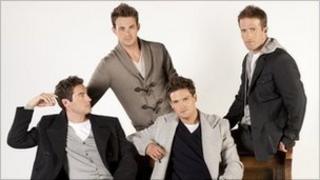 Choirs across the Isle of Man are being urged to apply for the chance to sing on stage with classical vocal quartet, Blake.
The group is scheduled to perform at Villa Marina on 9 December in a benefit concert organised by Manx charity Junior Achievement.
All proceeds from the event will go towards the charity which helps young people gain employment skills.
Audition tapes can be uploaded to YouTube via the charity's website link.
Junior Achievement chief executive Sue Cook said: "If you look at the type of songs that they're singing like Nessum Dorma and Jerusalem, they are very much a classical group, so the type of choir they are looking for will need to be able to support that type of singing.
"I think we've got some fantastic choirs on the Isle of Man. We've got some really good talent, so I would encourage any local choir to apply."
In 2010 Junior Achievement volunteers delivered training to more than 4,000 young people in Isle of Man secondary schools.