Isle of Man aims for economic ties with South Korea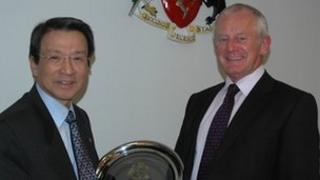 The Isle of Man government has welcomed a delegation from South Korea, with the aim of encouraging business and investment from the Far East.
The South Korean Ambassador to the UK, His Excellency Choo Kyu-ho, has been on a two-day visit to the island.
He was accompanied by Minister Counsellor Kim Yong-jin and Counsellor Shin Jae-shik.
Chief Minister Allan Bell said it was part of a strategy to enhance the island's international profile.
During its visit, the South Korean delegation was given an overview of the Manx economy in a series of meetings with senior island officials.
Mr Choo Kyu-ho said: "I have been particularly impressed by the Isle of Man's good governance, its creativity in terms of developing its economy, and its openness with the outside world.
"It has been a very productive visit and I hope it will be the beginning of a mutually beneficial relationship between the Isle of Man and the Republic of Korea."