Isle of Man TT: Milan flights confirmed for TT week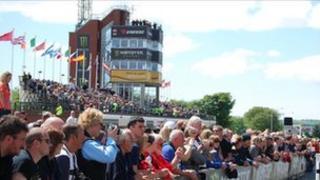 Direct flights between Italy and the Isle of Man will be in place for the 2012 TT, it has been confirmed.
The flights will carry about 150 passengers between Milan and the Isle of Man for TT week, between the 1-8 June 2012.
Isle of Man residents will be able to travel to Italy for the same week.
TT and motor sport development manager Paul Phillips says he is delighted that more Italian fans will get to experience the TT races.
Mr Phillips said: "I have just got back from the Milan motor show and the Isle of Man TT is incredibly popular in Italy. This deal is fantastic for the event.
The flights will be organised by Milan-based Cinehollywood with Italian airline Mistralair.
Island-based Regency Travel will look after the on-island arrangements.
Tony Lawrence of Regency Travel said: "This flight is a big boost for the TT and we have already had approaches from other possible destinations across Europe looking to do something similar."
More than 31,000 people visited the Isle of Man during the TT fortnight in 2011, according to government figures.