Two-minute silence observed for Remembrance Day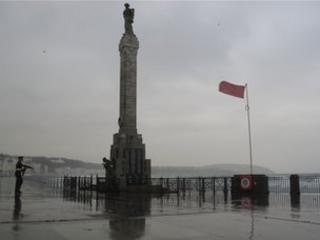 People across the Isle of Man held a two-minute silence at 11:00 GMT on Friday to mark Remembrance Day.
Service personnel who have died in all conflicts since World War I were remembered.
The date of 11 November is chosen because it is the day World War I ended in 1918.
The Isle of Man government requested that all motorists on the road at the time stopped their engines during the silence.
Another two-minute silence will be held across the island at the same time on Sunday.
This will be followed at 15:00 GMT by the island's national service of remembrance which will be held at the Royal Chapel of St John's.
Among those in attendance will be the lieutenant governor and the chief minister.
Dunkirk evacuations
St John's Primary School is holding a service at the church where pupils will take part in a ceremony where the oldest and youngest child will lay a wreath.
Manx National Heritage will host a series of events and activities at the iMuseum to commemorate the 90th Anniversary of the Royal British Legion.
These include a talk on the island's involvement in the Dunkirk evacuations, a poppy art workshop and a lecture on the history of Remembrance Day.
Students from the island's secondary schools will hold a concert including poetry, song, dance and music.
The event, called The Angel and the Fallen, will take place at the Villa Marina on Friday evening.