Isle of Man Wurlitzer concerts set for Christmas return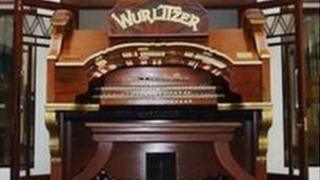 The Isle of Man's Mighty Wurlitzer organ is once again to be the focus of a number of free concerts in the run up to Christmas.
The events will take place at the Villa Marina Arcade in Douglas and feature several of the island's leading musicians.
This year there will also be a performance by internationally renowned expert Len Rawle.
The concerts will be held between 5 and 21 December.
Series co-ordinator Jonathan King said: "The opportunity to hear Len is not to be missed he is an incredibly talented musician."
'Resounding success'
Mr Rawle, who was made an MBE for services to music in this year's New Year's honours list, was responsible for restoring the organ, which was bought by the Isle of Man government in 1989.
It had previously been owned privately and before that was in a cinema in Leicester.
Mr King continued: "Last year's series was a resounding success and I am delighted to be able to continue and build on the tradition.
"It is a particular pleasure to be able to share the console of the Wurlitzer this year with at least three other island resident organists - Margaret Cubbon, John Riley and Jimmy Thomson.
"I am grateful to all the performers for giving freely of their time and talents. Thanks to audiences' generosity, last year's Christmas series raised £770 for good causes."
The organ is the sister instrument to the one originally installed in the famous Tower Ballroom in Blackpool for the legendary organist Reginald Dixon.
It was built in built in Tonawanda in the United States in 1929.