London 2012: Olympic torch to be carried in TT sidecar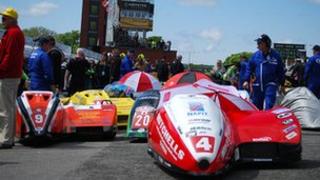 The Olympic torch will be carried around the Isle of Man in a TT sidecar and an electric tram at the TT festival 2012, it has been revealed.
The Manx towns and villages included on the torch relay route in the lead up to the 2012 Games are Douglas, Castletown, Laxey and Ballasalla.
The relay will involve 8,000 torchbearers carrying the flame on a 70-day journey starting on 19 May 2012.
It is due to arrive on the first race day of the TT Festival on 2 June.
The route, which covers every nation and region in the British Isles, will see the Olympic torch travel 8,000 miles (12,800 km).
The relay will start in Land's End, Cornwall, and finish at the Olympic Stadium's Opening Ceremony on 27 July.
Other island destinations on the route include Jersey, Guernsey, the Isle of Lewis and Shetland.
On the Isle of Man, the torch bearer will carry the flame while travelling in the sidecar.
Afterwards it will be carried on the Manx Electric Railway along with other torches and lanterns.
Minister for Community, Culture and Leisure, Tim Crookall said: "Officers from my Department have been assisting LOCOG's team in planning the Flame's visit and it's very pleasing that they have created a route that will showcase some of our unique Island.
"It is going to be a highlight of the summer for residents and the thousands of TT fans we expect will also be here next June and I am very much looking forward to it".