Isle of Man films nominated for British film awards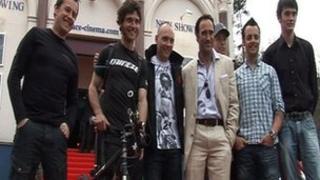 Two Isle of Man-made films have received nominations for the 2011 British Independent Film awards (BIFA).
The prodctions, TT3D: Closer to the Edge and Albatross have a total of three BIFA nominations.
Albatross, which was shot in 2009, is up for Most Promising Newcomer, (Jessica Brown Findlay), and Best Supporting Actress, (Felicity Jones).
The feature film, TT3D: Closer to the Edge has been put forward in the best British documentary category.
Economic Development Minister, John Shimmin said: "The fact that both of these successful productions were filmed almost entirely on the Isle of Man is a great compliment to everyone living here on the Island.
"It is the enduring goodwill of the Manx people that has enabled us to make almost 100 films here which has generated literally millions of pounds for the Manx economy."
BIFA aims to recognise and promote British film making.
The awards will take place on 4 December in London.