Dunkirk anchor from Mona's Queen returns to Isle of Man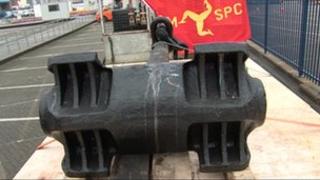 An historic anchor has been returned to the Isle of Man 18 months after being raised from the seabed at Dunkirk.
The relic came from the Mona's Queen, one of three Isle of Man Steam Packet Company ships lost at Dunkirk.
The vessel was sunk by a German mine on 29 May 1940.
A Steam Packet Company spokesman said the anchor, recently restored at Cammell Laird shipyard, will be placed at Kallow Point in Port St Mary in memory of those who took part in WWII.
The raising of the Mona's Queen anchor formed part of the 70th anniversary events to commemorate the Dunkirk evacuation in May 1940.
Mona's Queen was one of eight Isle of Steam Packet ships which are thought to have rescued a total of 25,000 troops during the evacuation.
The vessel was coming into Dunkirk to take more troops to safety when she was blown up by a mine.
Seventeen of her 24-strong crew were from the Isle of Man.