George Daniels: Tribute to 'greatest ever horologist'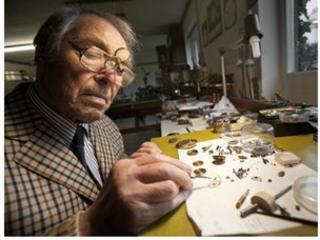 Tribute has been paid to Isle of Man watchmaker Dr George Daniels as the "greatest horologist of all time", following his death.
Roger Smith, who was inspired by Dr Daniels to become a watchmaker, said the 85-year-old was responsible for some of the most important advancements in his field.
Dr Daniels, who lived in Ramsey, was appointed an MBE in 1981 and CBE in 2010 for services to horology.
He died peacefully at home on Friday.
Dr Daniels' greatest contribution in his 60-year career was the coaxial escapement, a modern watch mechanism which won global acclaim.
Mr Smith said he was inspired to take up watch-making following a lecture by Dr Daniels more than 20 years ago and followed him to the Isle of Man to work.
"His philosophy was that of the artist craftsman creating individually hand-crafted pocket and wristwatches to a standard which had not been seen in English or indeed any watch-making for about 150 years," said Mr Smith.
'Extraordinary beauty'
"George's talents were enormous. He covered all spectrums of horology through his books, public speaking and of course his work."
Dr Daniels created 37 watches over a 60-year career. Each watch was created from scratch by hand and from raw materials, a task which includes mastering more than 30 separate skills and could take more than 2,500 man hours to complete.
Mr Smith said: "Throughout his life he has created, in my view, one of the world's most important bodies of work with inventions covering some of the most fascinating complications within watch-making.
"But above all he was the first person in history to hand make a watch with a great technical level and extraordinary beauty from start to finish - previously watchmakers relied on a trade of 30 or so skills to draw on for the supply of components - George mastered each of these individual skills."
The watches Dr Daniels made on the island were considered by many to be the most technically advanced in the world and he won numerous awards throughout his career, including the Gold Medal of the British Horological Institute.
Mr Smith added: "George has left a huge legacy through his writings and work which will inspire many generations of watchmakers to come and his passing is a huge loss to the world of watch-making."
When he was not making watches Dr Daniels, who was born in Edgware in 1926, loved to race motorcars.