Isle of Man watchmaker's work to star in Saatchi show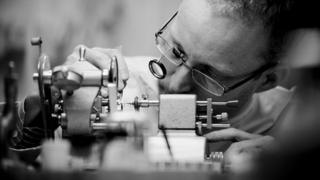 Isle of Man watchmaker Roger W Smith is to exhibit his work in a showcase of the world's most exceptional timepieces at the Saatchi Gallery in London.
The 41-year-old, from Bolton, has been invited for the second year to display his hand-crafted wrist watches at the prestigious SalonQP exhibition.
Mr Smith currently has a two-year waiting list for his watches, which start at £72,500.
The show will run from the 10-12 November.
Mr Smith says he will never compromise his standards to reduce the waiting list.
"Most clients' expectations are conditioned by experience of mass-produced Swiss watches," he said.
"Every component of the watches we make is handmade and engineered in house.
"It is very time consuming and can not be rushed. More than 30 crafts are needed for each individual one.
"Every wristwatch that leaves our workshop is a complete one-off."
Mr Smith made his first pocket watch at the age of 22. He now runs Britain's only fully handmade-watch business, with wife Caroline and his team of watchmakers.
Every component of his watches is created in his Isle of Man workshop, from the case and dial through to the movement, including the balance and escapement.
The watchmaker originally moved to the island in 1998 to work with Dr George Daniels CBE, who died last month at the age of 85.
Mr Smith worked closely with Dr Daniels for more than 20 years and describes him as "the greatest horologist of all time."
Dr Daniels's greatest contribution in a remarkable career was the coaxial escapement, a modern watch mechanism which won him global acclaim and is widely considered to be the greatest development in watch making for more than 250 years.
Mr Smith is the only independent watch maker in the world to employ the escapement which is included in his latest commission, the Tourbillion No 4 will be unveiled at the London show.