Basking sharks: Scientists offer reward for lost tag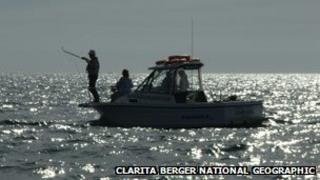 A reward of £200 has been offered by scientists hoping to locate a tag that was attached to a basking shark near the Isle of Man coast in July.
The electronic device is currently thought to be floating in the sea about 8 miles (13km) off the coast of Pembrokeshire, near Skomer Island.
Scientists say the tag, worth about £3,500, will provide invaluable information about shark behaviour.
If the tag is returned it can be used for more tagging projects next summer.
A spokesman for the Manx Basking Shark Watch, which attached the tag, said the data can reveal details about when and where the sharks feed and at what depth they swim to.
Three basking sharks were tagged during 2011 with the aim of building up data on the sharks' movements, taking the total tagged to 18 since 2007.
The project aims is to improve international shark protection.
Basking sharks, the second biggest fish in the world, can grow to more than 30ft (10m) long.