Isle of Man thresher shark sighting claimed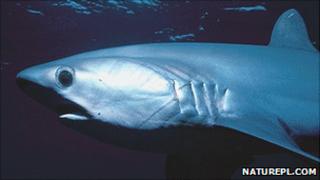 A warden from the Calf of Man has reported sighting a thresher shark in Manx waters.
Simon Davies was monitoring sea birds when he saw the shark through his telescope off the north of the island.
The sharks are described by the International Union for Conservation of Nature (IUCN) as "vulnerable" and decreasing in numbers.
There are only two confirmed records of thresher sharks being seen in Manx waters - in 1898 and in 1927.
The Calf of Man, an island off the southwest coast of the Isle of Man, has been a bird observatory since 1962.
A spokesman from the Manx Wildlife Trust said: "The shark was about 3m long and together with the distinctive tail, broad snout and long pectoral fins, identified as a thresher shark."
In August, a thresher shark was spotted by a fisherman near the coast of Devon.
The fish are usually found in open tropical oceans.