Viking heritage features in opening ceremony of games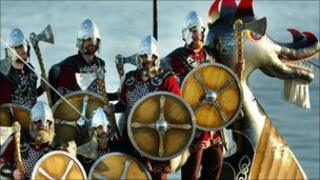 The Isle of Man's Viking heritage will feature in the opening ceremony of the Commonwealth Youth Games next September.
Walk the Plank, a production company based in Salford, will be overseeing the event on 8 September.
The planned festivities are thought to include dance and gymnastic displays, parkour performances and a Viking ship.
A spokesman from the production company said the ceremony will place Manx culture within the global community.
Producers are currently looking for young people from the Isle of Man to take part in the performances.
Carnival procession
The children and teenagers chosen will have the opportunity to perform in a piece called Dances of the World or to take part in the carnival procession around the stadium.
Local choreographer David Cowley will lead a dance workshop for young people aged 14 and under on 6 August at Carrefour Gym in Douglas.
For people aged 15 and over, the carnival dance workshops will be on the 20 and 21 August in the Secondary Sports Hall in the National Sports Centre.
More than 1,000 competitors, from 71 Commonwealth nations, will travel to the island in September to compete in the seven-day sporting festival.