London 2012: Cavendish 'worldwide boost for Isle of Man'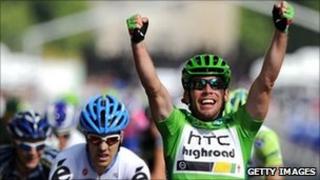 Cyclist Mark Cavendish's success has raised the Isle of Man's global profile, a government minister says.
The 26-year-old won five stages of this year's Tour de France, including victory in Paris, to become Britain's first ever winner of the Green Jersey.
Economic development minister Allan Bell said: "Mark's achievements have unquestionably raised awareness... he is an excellent ambassador."
Cavendish could become Britain's first gold medal winner at the 2012 Olympics.
The 'Manx Missile' will start the 240km road race on Saturday 28 July, with the eyes of the world on him, just six days after the final stage of next year's Tour de France.
Mark's father David Cavendish said it meant a huge amount to his son to represent Great Britain at the London Games.
"Mark will be immensely proud to represent Great Britain as he is the Isle of Man.
"He was disappointed after Beijing in 2008, but I know he will be giving 110% as usual to win gold.
"He is one of the hottest properties in world sport at the moment and I know that he would love to win a medal at both the Olympics and the World Championships later this year in Copenhagen."
Following his five stage victories at this year's Tour de France, the Manxman has now won 20 stages in his career, placing him sixth in the all-time list, just three behind Lance Armstrong.
Mr Bell added: "Mark has had incredible success throughout his career, especially at the Tour de France, and he is a fantastic ambassador for the Isle of Man and the sport.
"He is a real role model for young cyclists on the island.
"The cycling talent pool on the island at the moment is very strong and we have got a great number of riders achieving results at a very high level.
"Mark's success has definitely had an impact on people's awareness of the Isle of Man all around the world and no doubt his involvement at the Olympics will continue this, especially with them being held in Britain in 2012.
"I am sure the whole of the Isle of Man and Great Britain will really get behind him at the Olympics in 2012."