Isle of Man celebrates Tynwald Day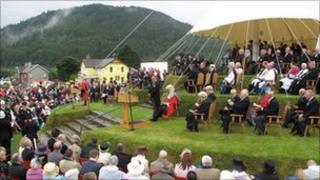 People in the Isle of Man have gathered to celebrate the island's national day - Tynwald Day.
Members of Tynwald braved the poor weather and joined an open air ceremony in St John's.
The historic day was first codified by the Manx parliament on the hill in 1417. New laws are promulgated in both English and Gaelic.
This year's ceremony was the last one for current president Noel Cringle, who announced he was standing down in June.
He had held the role for 11 years. His replacement is expected to be announced on 12 July.