Manx breast cancer surgeon plan to go ahead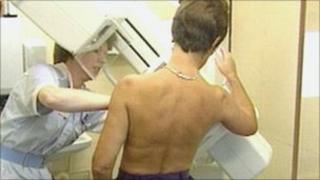 Controversial plans to replace a breast cancer specialist with a general surgeon on the Isle of Man will go ahead.
The Department of Health decision sparked protest among some who said the specialist locum should be retained.
East Douglas MHK Brenda Cannell tabled a motion for the plans to go on hold pending a debate in Tynwald.
The motion was defeated in Tynwald on Tuesday and the government confirmed a general surgeon would be recruited.
Mrs Cannell said there was little she could do to change the department's policy.
"I think it will be a general election issue because I don't think the breast cancer patients were very happy," she said.
"The public gallery was almost full today for this debate.
"Going by their facial expressions, I don't think that they are very pleased with how things have turned out."
Health Minister David Anderson has said the department's plans would mean breast care on the island would be enhanced.
The plans have also been approved by The Royal College of Surgeons.