Dead shark found off Isle of Man coast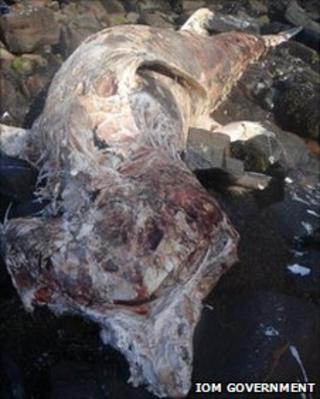 Tests are being carried out to find out how a basking shark died, which was found off the coast of the Isle of Man.
The corpse, the first to be found near the island, was washed up north of Niarbyl beach on the west coast.
The male adult shark, which was 7m in length (23ft), was initially spotted by a fisherman on Saturday.
Government marine officers, along with volunteers, travelled to the scene and performed an initial autopsy at the bottom of the cliff.
Assistant marine biodiversity officer Laura Hanley said tests were now being done on different parts of the shark to find out what killed it.
She added: "It is very rare to find a dead basking shark near the Isle of Man.
"It was found at the bottom of cliffs near Niarbyl and as we were racing with the tide, we carried out some basic tests at the scene".
Parts of the shark will shortly been sent to Aberdeen University for further analysis.
'Dreadful smell'
Co-ordinator of the Manx Basking Shark Watch Jackie Hall said: "I have been studying these animals for years and this was the first time I have ever been able to see one that close - it was an incredible experience.
"Obviously we had marine officers from the Isle of Man government with us, otherwise we wouldn't have been able to touch the shark as they are protected.
"As it was, we were able to take all kinds of samples to help us further our understanding of these creatures, but I have to say, to smell was dreadful, the shark had been dead for some time".