'Wow factor' promised for Douglas town centre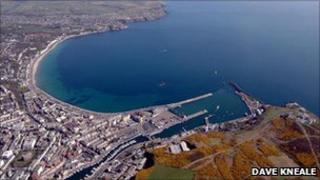 The latest regeneration plans for Douglas town centre will give the area the "wow factor", according to Douglas Borough Council.
Chairman of the public works committee David Ashford said work on reviving the capital was due to begin on Monday.
The first phase of the work, which will cost £5.5m, will concentrate on Nelson Street.
Mr Ashford said: "We think it will have the wow factor, it really is going to be a vast improvement."
Once the first stage of regeneration has been completed in Nelson street, the focus will turn to Douglas's main shopping area.
'Very tired'
"Work will get started on Strand Street before the end of the year, this is obviously our high priority item - I think it is going to be a vast improvement," said Mr Ashford.
"I mean, you look at Strand street now, it looks very tired. It's very 1950s and it has needed updating for a long time and this will bring it into the 21st Century".
The regeneration plans are part of an island-wide scheme to revive the towns and villages around the Isle of Man.
At the beginning of 2010 Treasury Minister Anne Craine said plans would still go ahead despite the tough economic climate.