Isle of Man homophobia 'still a problem'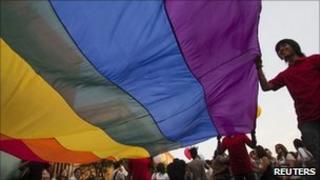 A local group is calling for more tolerance in the Isle of Man as the island celebrates an international day against homophobia.
Lee Clarke, chairman of the the Lesbian, Gay, Bisexual and Transgender group (LGBT), claims homophobic abuse is ongoing.
He said many people still feel they cannot be open about their sexuality.
"People feel they cannot come out to family and work members because of isolation and homophobic comments," he added.
Homosexuality was illegal under Isle of Man law until 1992 and since then steps have been taken to give equal rights to all sectors of society.
From April 2011, same-sex couples have the right to a civil partnership and to adopt.
But, according to Mr Clarke, the culture on the island still has a long way to go.
Mockery fear
"It's been a great year but homophobia is still very much part of our community.
"Our members still feel isolated and unable to be themselves and still fear being 'cut off' or mocked.
"We hear all the time of members who are too scared to come to events or appear in interviews in case they're outed or seen with what people perceive to be the wrong type of people".
LGBT is encouraging local organisations to fly a rainbow flag on Tuesday to mark the International Day Against Homophobia and Transphobia.
The move is intended to send a strong signal that the fight for lesbian, gay, bisexual, transgender and transexual rights is very much alive.
All participating organisations are asked to send a picture of their flag to support@iomlgbt.com.
It is believed it will be the first time the rainbow flag, a symbol of gay pride, has been displayed in the Isle of Man.