Ramsey pier restorers call in diving team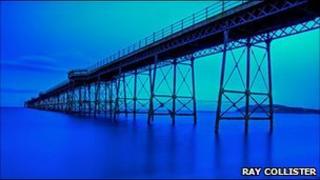 Divers are being called in to help with the structural repair work on the Queen's Pier in the Isle of Man.
The pier, in Ramsey, is to be made safe after members of Tynwald agreed to invest £1.7m in the project.
Director of Harbours, Mike Brew, said: "This pier is over a hundred years old and has deteriorated considerably".
The UK firm awarded the contract, MPM North West Ltd, has also undertaken major restoration work in the Houses of Parliament, in London.
"The work being done is about maintaining the structural integrity to allow for future restoration," Mr Brew continued.
"Obviously, some of the work is under water so we are bringing in divers from the department".
'Dangerous' structure
The first stage of the restoration work involves laying a safe walk-way with a hand rail down the centre of the structure.
The contractors will then replace and strengthen the cross-braces and a proportion of the iron work.
Some of the original Victorian features such as the lighting and railings will be put in controlled storage in Jurby.
"We are worried about the deck, railing and the lighting columns," Mr Brew said. They are all bolted to the wood.
"As the wood deteriorates, the risk of bits and pieces falling off has increased. It's dangerous both for members of the public and boats in the harbour".
The government hopes the work will be completed by the end of November.