Gulf minehunter HMS Ramsey visits the Isle of Man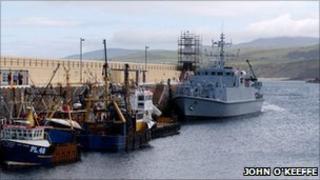 A Royal Navy vessel is paying a short visit to the Isle of Man before leaving for active service in the Gulf.
HMS Ramsey which is made from plastic rather than metal to avoid triggering mines, is in Peel harbour on 12 May.
The 600-tonne Sandown class minehunter is designed to clear passages for other vessels.
The harbour operations manager in Peel said HMS Ramsey was due to leave the island at 1400 on 12 May.
Crew on the vessel will host a lunch for dignitaries from Ramsey, the Manx town the ship was named after.
HMS Ramsey is heading east of the Suez Canal, where it will stay for four years.
The relatively small vessel, 52m (170ft) long , carries some of the most modern sonar equipment in the world.