Douglas horse trams in 135th year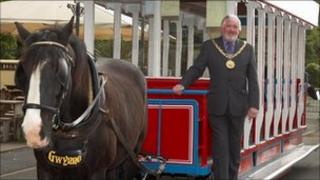 The 135th year of Douglas's horse tram service has been launched by the town's mayor.
The trams will run every day, from 0900 to 1800 BST, until 18 September, Douglas Borough Council said.
Mayor Ritchie McNicholl started the season on Monday. The first tram to run was No 44, known as the Royal tram as the Queen and Queen Mother rode in it.
Passengers will be able to buy tickets for the duration of the season from Douglas council.