Isle of Man basking sharks to feature in BBC Two show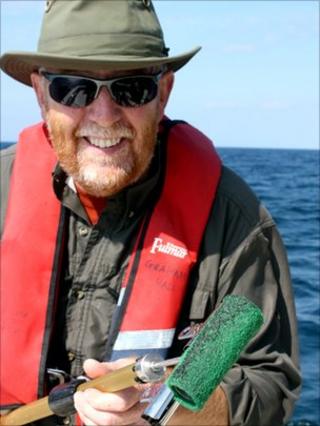 The Isle of Man's basking sharks will star in the first programme of the BBC Two nature series Britain's Secret Seas, airing on Sunday.
The programme will start by looking at basking sharks off the Cornish coast before the team's expedition brings them into Manx waters, where they spend time with local experts, Jackie and Graham Hall.
The crew join up with the husband and wife team, who run the Manx Basking Shark Watch, on a research trip to take DNA samples of the sharks.
Jackie Hall said: "It was great to have the team over and hopefully it will continue to raise the profile of these incredible creatures.
"They all got stuck in and we were very lucky to find the sharks while they were visiting. The DNA sampling is a very interesting process, it's like making a passport for a shark.
Presenters Tooni Mahto, Paul Rose and Frank Pope will be seen working with the Manx team as they assess the genetic health and long-term fitness of the basking sharks.
The programme's director, Paul Olding, said it was fascinating to see and record the incredible work being done on the island. "We filmed off the west coast of the island in the summer of 2010 and the weather was perfect, blue skies and calm seas," he said.
Whilst in Manx waters, near Niarbyl, the team also encountered a giant swarm of jellyfish.
Presenter Paul Rose is a diver with 40 years experience, he considers Britain's Secret Seas as the ultimate way to share his love of British underwater adventures.
He said: "There is something gripping about a 10-metre-long shark swimming towards you with that massive open mouth."
For more information on filming this programme you can read Presenter Paul Rose's BBC Television Blog or watch an extract on the Britain's Secret Seas website.
Britain's Secret Seas will be shown on BBC Two at 2000 BST on Sunday 8 May.