Isle of Man artist's work in national exhibition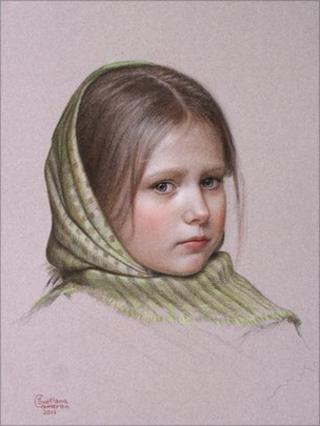 Isle of Man-based artist Svetlana Cameron is to have her work exhibited alongside some of Britain's leading portrait artists at a national exhibition.
She is one of a handful of artists to be chosen from more than 1,000 entries to exhibit at the Mall Galleries in central London.
The annual exhibition is run by the Royal Society of Portrait Painters and is a rival to the National Portrait Gallery's BP Portrait Award.
This year's exhibition will be on display at the gallery near Trafalgar Square between 5 and 20 May.
The exhibition will feature commissioned portraits of celebrities and major public figures completed throughout the year by members of the society, as well as outstanding work by non-members, selected through the open submission.
The Russian artist told BBC Isle of Man it was an incredible feeling to have her drawing, The Green Shawl, chosen for such a high profile show.
'Fantastic feeling'
She said: "The news came as a real surprise. It's the first time I have submitted an artwork to the RSPP, actually the first time I submitted anything to the UK, and I certainly did not expect it to be accepted straight away.
"It is always a fantastic feeling to have someone acknowledge your hard work and I'm really looking forward to seeing my work alongside so many talented artists."
Ms Cameron, who works out of her studio in Braddan, will also launch her first large public exhibition at the Sayle Gallery in Douglas in May.
"Unfortunately the dates of the Royal Society's exhibition coincide with my local exhibition, which means that my successful submission to the London show cannot be exhibited here at the same time.
"I have prepared a print to replace the original, to give the visitors to my local exhibition a chance to see the artwork."
Ms Cameron studied foreign languages and, after gaining an MA in linguistics, worked as a translator and interpreter in Moscow.
Her transition to art began when she decided to study history of Russian and West European art in order to become a qualified guide-interpreter.
The time she spent studying and working at the leading Moscow museums, including the Kremlin, the Pushkin Museum of Fine Art and the Tretyakov Art Gallery, helped her discover her passion for art.