Filming for Coldplay-funded movie starts on Isle of Man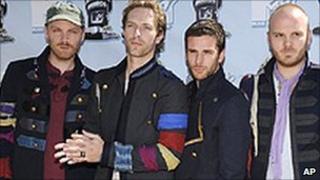 The production of a new film being partly funded by British band Coldplay has started on the Isle of Man.
The genre of Ashes is described as a contemporary film noir and stars Ray Winstone in the leading role.
Producers Isle of Man Film has created a string of blockbusters from Stormbreaker to Waking Ned since it was set up more than 15 years ago.
Filming for their latest movie will take place over the next four weeks at various locations across the island.
The partnership with Coldplay came about because of the film director's connections with the band.
'Absolute fortune'
Director Mat Whitecross, whose previous credits include Sex and Drugs and Rock and Roll, has worked on music videos for the band in the past.
Steven Christian from Cinema NX, the company supported by the Isle of Man government, which encourages the island's film industry, said: "To buy the music to put into films costs an absolute fortune and obviously the soundtrack is so important.
"We decided to explore ideas of how to combine music and the film together.
"For Coldplay to do the music gives them a great platform for an album and likewise it's great for us to be associated with them, and so it works both ways.
"It's basically about finding new ways to fund movies, new ways to bring money in and stay ahead of the game.
In a move away from his usual tough-guy roles, Winstone, whose film credits include the Indiana Jones movies and The Departed, plays an Alzheimer's sufferer.
Mr Christian said: "It's great to get Ray. He signed up to do this about a year ago and has been in training to get into shape for the part - basically lose some weight."
Starring alongside Winstone will be Jim Sturgess, Lesley Manville, Jodie Whittaker and and Luke Evans.
Isle of Man Film has built up a worldwide reputation for co-financing and co-producing around 90 feature films and television dramas since it launched in 1995.
The island's varied landscape is one of its main selling points, doubling up as a remote Scottish island in David Tennant's latest movie Decoy Bride, or the Irish coast in Waking Ned.
Generous subsidies, which can help fund a proportion of production costs, are also a powerful incentive to film-makers to base the majority of their filming on the island.