Isle of Man hospital secures newborn service funding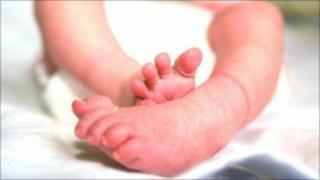 The Isle of Man's Nobles hospital has received charity funding for equipment to screen babies for hearing defects.
A donation from the trustees of the Henry Bloom Noble Healthcare Trust will mean newborn babies are tested for hearing deficiencies within four weeks.
Head of Audiology, Stephen Griffiths said the equipment had enabled the hospital to give children a better start to life.
The procedure uses an echo test on the inner ear.
"Given that we are already identifying potentially deaf babies, there can be absolutely no doubt as to how much the equipment benefits the island's population," Mr Griffiths said.
The hearing test involves placing a small tip into the baby's ear which plays a clicking sound. If the baby has normal hearing, the equipment then registers an echo from the inner ear in response to the sound played.