Discovery Space Shuttle carries a piece of Tynwald Hill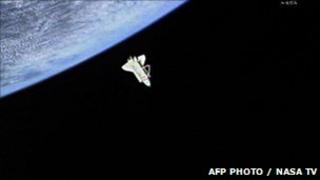 A piece of Tynwald Hill is being carried into orbit on board the NASA space shuttle Discovery.
Special permission was granted by the Isle of Man government to give a piece of the hill to Astronaut Nicole Stott.
On her last mission to space in 2009 Ms Stott, who is married to a Manx man, flew the Isle of Man flag.
Chief Minister Tony Brown said sending a piece of Tynwald hill into space highlighted the island's contribution to the space industry.
He added: "It is wonderful to think that part of Tynwald Hill, symbolising the national identity of the Isle of Man and our proud heritage of independent democracy, has gone on a journey into outer space."
Discovery, which is currently docked to the International Space Station, is on mission STS-133.
The piece of Tynwald Hill will be returned to the Manx Parliament upon the Space Shuttle Discovery's return.