Home of Isle of Man memories to open in March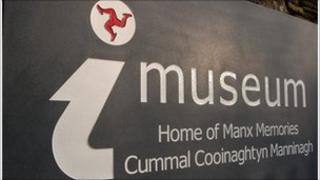 Researching Manx history is about to change forever with the opening of the iMuseum in Douglas.
Users will soon be able to access many of the archives at the Manx museum by the a click of a button.
The new facilities are housed in a purpose-built community building on Kingswood Grove in Douglas.
Kirsty Neate, of Manx National Heritage (MNH), said: "Digitising the newspaper archive cost more than £500,000 but it is worth every penny".
She added: "What they have done with the newspaper archive is fantastic - it will revolutionise the research process. People will now be able to spend more time interpreting the information rather than finding the information itself."
Funding for the project was provided by the trustees of Manx National Heritage and a further £1m was approved in Tynwald to refurbish the government building on Kingswood Grove.
Tynwald funding
Initially the archive content will be restricted to visitors at the iMuseum but it is hoped the facility will go online and be available to anyone, anywhere in the world.
Kirsty Neate said: "We haven't put this system online yet as we felt we needed to launch it with support from professional staff based here at the museum.
"We would really like to encourage people to do this sort of work together, make it a social thing."
The iMuseum building has been designed to be flexible with lots of different spaces for people to chose from. Some of the rooms lend themselves to formality and some to relaxation.
This eclectic design was quite deliberate, explains Ms Neate: "We are hoping people will find this an attractive place to be. We'll be putting workshops on and we want people to find this an inspiring social setting where they can talk about and explore their work."
The iMuseum will open in March 2011.