Isle of Man space industry named industry 'model'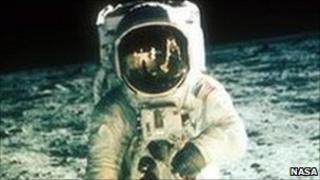 The Isle of Man's space industry has been hailed as a "fascinating model" in recent market research.
The US report, which was commissioned by the Manx government, said that the island was "punching above its weight" in competitive terms.
It is thought that the global space industry is currently worth about $300bn a year.
Space companies in the Isle of Man have generated nearly £400m over the last three years.
'Vibrant industry'
The report said: "The island's strategy for space provides a fascinating model to foster hi-tech economic activities. I imagine other nations and jurisdictions will look to the isle to replicate its success."
The Isle of Man is the headquarters for 12 space firms which are involved in work such as developing space tourism technology and satellite communications.
In 2010 industry analyst Ascend named the island as the fifth most likely nation to put the next person on the moon.
Minister for Economic Development, Allan Bell said: "I am delighted to see such a positive analysis of the Isle of Man's vibrant, diverse and rapidly growing space industry".