Dunkirk ship Mona's Queen anchor returns to Isle of Man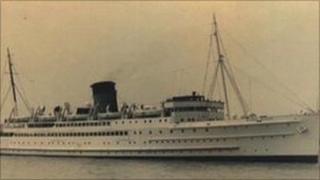 The anchor of a Manx ferry sunk during the Dunkirk evacuation in World War II is being restored and could form part of a memorial to those who died.
Mona's Queen was one of three Isle of Man Steam Packet ships lost at Dunkirk in 1940.
Her anchor was recovered from the seabed near France last summer and is now being restored at Cammell Laird shipyard in Birkenhead.
Divers found her anchor while searching for the wreckage.
Mona's Queen was one of eight Isle of Steam Packet ships which rescued a total of 25,000 troops during the evacuation
The vessel was coming into Dunkirk to take more troops to safety when she was blown up by a mine.
Seventeen of her 24-strong crew were from the Isle of Man.
"We think she was hit by a magnetic mine which broke the ship's back," said Hamish Ross, former managing director of the Steam Packet Company.
The anchor, which is being restored at the same shipyard where she was built in 1934, will be blasted, painted and preserved over the next two weeks before returning to the island.
It will be returned to Douglas Promenade where it could be sited next to the island's war monument as a memorial to all Steam Packet company staff who died in the war.