Pope Benedict honours Kwik Save founder Albert Gubay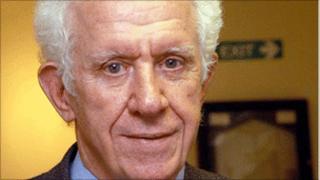 Manx-based millionaire Albert Gubay has been honoured for his charity work by the Pope.
The Vatican has announced that the Kwik Save founder has received a Papal Knighthood - the highest award a Roman Catholic lay person can receive.
Mr Gubay will receive his award from the Archbishop of Westminster the Right Rev Vincent Nichols at St Anthony's Church, Onchan, on 23 February.
The Rhyl-born millionaire, 83, said he was "humbled" by the award.
It emerged last year that Mr Gubay had arranged that profits from his business empire to be distributed each year to charitable causes.
Half of his money, from his £1bn fund, goes to causes identified by the Roman Catholic Church, with the other half to go to good causes selected at the discretion of the trustees.
Mr Gubay will receive the Knight Commander with Star of the Order of St Gregory the Great, an order bestowed by the Pope which dates back to 1831, and which is given for conspicuous service to the Church and society.
"I am humbled by this immense honour from the Church and can only hope that my example encourages others to use their wealth for good causes," he said.
Mr Gubay was nominated for his award by the Roman Catholic Church in England and Wales.