Ploughing match takes place on Isle of Man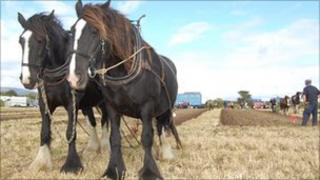 A ploughing match which is one of the great farming events of the Manx winter is being held on the Isle of Man.
The Cronk-y-Voddy ploughing match is being held at Ballakilmurrey Farm on the Poortown Road.
Nine pairs of horses will be taking part, working with experts from the Isle of Man and Ireland.
The event will feature Manx and World style classes, and modern and vintage tractors. All proceeds go to the Manx Foundation for the Physically Disabled.
The event is running from 1015 GMT to 1515 GMT, with a presentation evening and concert, hosted by Dot Tilbury, at the St John's Methodist Hall from 1915 GMT.