No government renewable energy commitments until 2012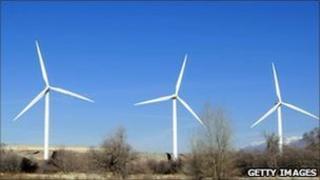 The Isle of Man government will make no firm decisions on renewable energy solutions until next year.
The statement was made in January's sitting of Tynwald by DEFA Minister John Shimmin who said there was still a lot of work to do.
Last year a report from consultancy firm AEA was published detailing various options for the Island.
Mr Shimmin said: "In 12 months' time, after more research, we will have more clarity about the way forward."
The AEA report underlined the fact that significant investment would be needed for the Isle of Man to achieve its target of having 15% of electricity generated from renewable sources by 2015.
It also said that onshore wind farms should be one of the main priorities, something which has met with much opposition locally.
Mr Shimmin added: "We have been looking at the possibility of having onshore wind farms.
"They are one option but we need to make sure this is something the island can actually afford without having a negative impact on current energy prices."